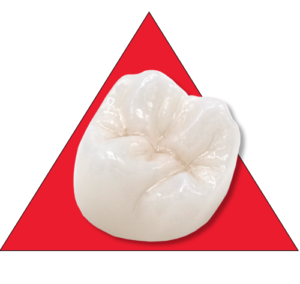 Full Contour Solid Zirconia
Full Solid Zirconia is an all-ceramic monolithic restoration requiring no porcelain overlay. Designed and milled with CAD/CAM technology, Full Solid Zirconia is one of the most sought after crown and bridge restorations today. Highly regarded for its superior strength of 850 MPa, accurate fit, and fracture-resistance, it is an excellent restorative choice for use in the posterior of the mouth.
Monolithic zirconia designed and precision milled with state-of-the-art CAD/CAM technology.
Virtually fracture-free
Resilient enough for bruxers
Indication: posterior use, bridges (any span)
Strength: 850+ MPa
Triconia Layered Zirconia
Exclusive Trident offering, is the perfect combination of strength, beauty, and fit. A zirconia internal provides durability and reliability, while an external layer of porcelain creates a natural look.
Combination of beauty and strength
Improved translucency over monolithic
Indication: anterior and posterior crowns
Stength: 1200+ MPa
The original monolithic zirconia, tested and proven in the mouth for more than 20 years.
Indication: posterior use, bridges (any span)
Strength: 1200+ MPA
The next evolution of BruxZir. A monolithic zirconia restoration with greatly improved translucency.
Indication: anterior and posterior use, bridges (any span)
Strength: 800+ MPA