12000 Aviation Blvd Hawthorne, CA 90250
REQUEST A FREE STARTER KIT
Please fill out the form below to receive everything you need to get you started. Our starter kit includes, labels, boxes, Rx's and a special coupon for our new customers.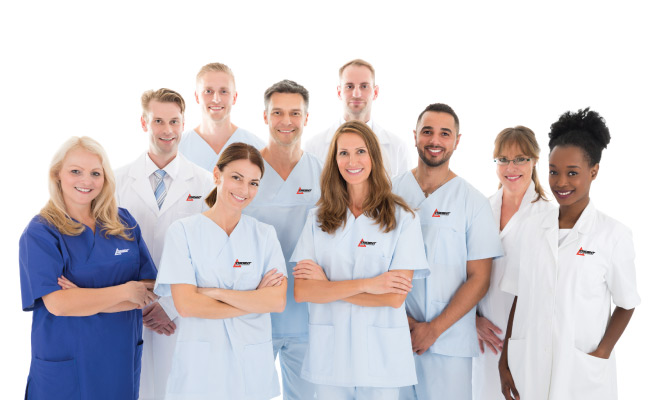 Trident Dental Lab has been a trusted partner for thousands of dentists for more than 30 years.  Join our growing family of practices and see why Trident is a solution that saves you money and simplifies your dental lab relationship.
Highest Quality Materials
Practical Pricing
Reliable Turn-around Time (10 days)
Superior Customer & Technical Service
24/7 Access to our Online Portal 
New Year's Day: 1/2

Memorial Day: 5/30

Independence Day: 7/4

Labor Day: 9/4

Thanksgiving Day : 11/23-11/24

Christmas: 12/25
Holiday closures will generally delay case returns by one day. Call our customer service team for more specific information about how coming closures will affect your cases.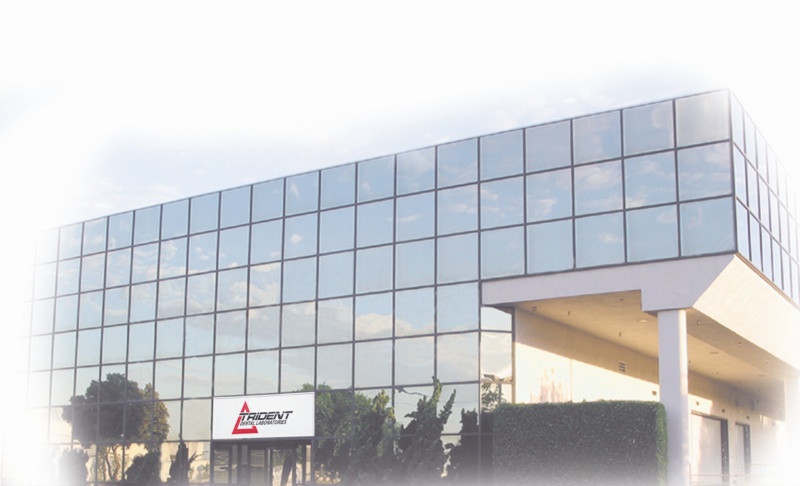 Have Other Questions?
We Have Answers
All of Trident Dental Laboratories' dental restorations and appliances are made using the finest materials available on the market. Our metal substructures are fabricated from FDA-approved alloys, and each case comes with an Identalloy certificate for the patient record. We have compiled a list of frequently asked questions regarding dental information from our doctors. If you do not see an answer to your question, please feel free to get in touch with us.
Do you accept digital impression files?
Yes, we accept digital files from all scanners, specifically 3Shape, iTero, Carestream, Cerec (Sirona), True Definition, Medit, and Raw STL Files. For any systems not listed here, please contact us so our team can assist you with getting us the dental information.
What's your turn-around time?
Generally speaking, here is how long our services take:
Crowns and bridges: 10 days
IOS Crowns and bridges: 7 days
Partials and dentures: 10 days
Implants: 10+ days (please call us to confirm this dental information)
Appliances: 10 days
Anything less than 7 working days will be considered a rush case.
How do I ship cases and what are the fees involved?
We offer prepaid FedEx labels and complimentary pick-ups to and from our lab. Simply fill out this form to send us your case.
Please make sure all bites and impressions are disinfected and properly bagged before you send them. All models should be wrapped well to avoid damage. Attach the RX form to the outside of the bag (stapling is recommended) and then place it in a box. We will provide shipping labels and boxes upon request. Alternatively, you can pre-print, schedule, and track your own labels from our website.
Do you offer a RUSH service for special cases and is there a fee?
Yes, we do offer rush service. We understand that sometimes you may require a rush case due to extenuating circumstances and we always try our best to accommodate those cases. Since this disrupts the carefully-designed schedule of our usual case flow, often requiring off-hour time and overtime for our technicians to complete, there is a rush fee.
These cases also need to be pre-scheduled and called in before sending to the lab – this is when we will quote the rush fee.
Need More Dental Information? Contact Us Today!
If you have any other questions or concerns regarding any of our products and services, or you want to request a quote, send us an email or call us at 800-221-4831.
RECEIVE SPECIAL OFFERS, INSIGHTS & MORE!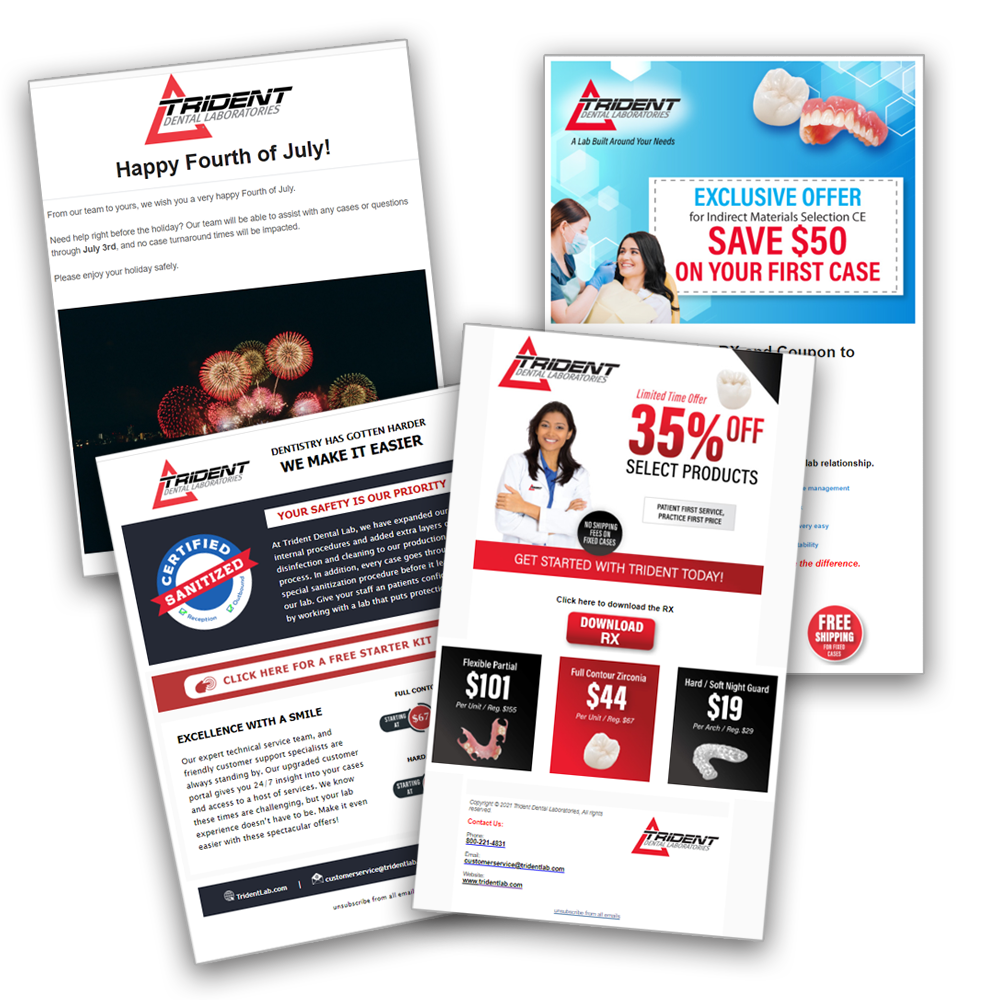 How can I access my account, view cases, make payments, or check delivery dates if you are closed?
Great news! All this can be done within our online

My

Account

portal. You can access those features and more 24/7 just by logging in. 
How do I get the most recent version of your fee schedule or price list?
Please just send an email to customerservice@tridentlab.com. We are excited for the chance to work with you! 
How can I register for the My Account portal or how can I access it if I forgot my sign in or password?
To register, all you need is your new Trident Account number, visible on all invoices and statements. You can also call or email the Trident team and we can setup your account for you. 
If you forgot your password or login info, use the 'Forgot Password' feature on the login screen. You can always call or email us – we are always happy to assist.
There was an issue with a case or with a statement/invoice related to my account, how can I get help?
We are sorry for any inconvenience and want to rectify the situation as soon as possible. Please give us a call at 800-221-4831 or email customerservice@tridentlab.com. 
For over three decades, Trident Dental Laboratories has been consistent in providing quality restorations with the fastest turnaround times. Our dependable and timely restorative products and our commitment to our clients have helped us earn an outstanding reputation and positioned us as one of the market leaders. For all your inquiries, you can contact us online or give us a call at 800-221-4831. Our team will be happy to answer your questions or concerns and provide you the most effective and proven dental lab solutions for your patients.
5 Reasons To Trust Trident Dental Laboratories For Gold-Standard Products & Services
We have always taken immense pride in fabricating quality dental prosthetics and devices from FDA-approved materials. All of our products are customized to meet the needs of your patients, on a case-by-case basis. Our team ensures that your device fits perfectly to reduce the in-chair adjustments and insertion times.
Here are a few benefits of working with us:
Quick and Accurate Results: We offer competitive turnaround times despite the logistics disruption brought on by the pandemic. This means that your patients do not have to spend extra time waiting for their restorations or devices to arrive.
Please note that fast turnaround does not imply substandard quality – your device will undergo multiple quality checks before it is shipped. More than three decades of experience means that you and your patients will get the best possible results.
Frequent Quality Checks: We have full-time technicians specifically responsible for carrying out quality checks, to ensure consistent quality of work.
Prompt Communication: Regardless of where your practice is based, our flexible customer support team is always on stand-by to assist you whenever you need us.
Attention to Detail: We only use FDA-approved materials because delivering a superior standard of products is important to us.
Industry-Leading Pricing: Our quality and attention to detail do not dictate a high price. We have optimized our production and worked with suppliers to lower costs so that we can pass savings on to you, ensuring you never overpay for all of the dental restorations and services you need.
Dentists & Clinicians Across the Country Work With Us
In addition to the extensive hands-on training that all of our technicians are required to undergo, we are also dedicated to continuing education. Technology is always evolving, and we make sure that our team stays on top of the latest in terms of dental trends and industry insights. We are fully equipped to fulfill every type of case we get – small or big, simple or complex.
We are constantly striving to improve so ongoing communication with our clients is always a priority. Until and unless you are 100% satisfied with your case outcome and your patients are happy, we do not rest.
Contact Us To Know More about Our Products, Pricing, and Partnership
At Trident Dental Laboratories, we provide dental practices with the peace of mind necessary to deliver exceptional products and services to their patients. It all starts with our experienced and talented team of lab technicians who put their skills and attention-to-detail to work in creating flawless dental restorations and oral appliances.
To find out what one of the leading California dental labs can do for you, email us at customerservice@tridentlab.com or give us a call at 800-221-4831.We look forward to working with you and to provide high quality, dependable solutions for your patients.