Sign Up to Request an Account & FREE Starter Kit.
Get started with Trident by requesting a free starter kit that includes: FedEx prepaid labels, boxes, RXs and an special introductory offer!
Welcome To Trident Dental Labs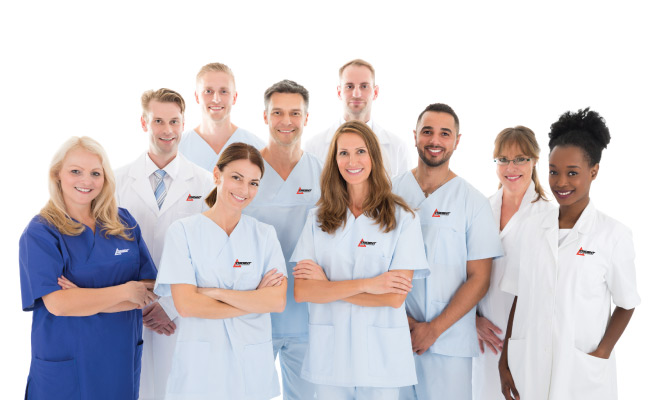 Established in 1988, Trident Dental Lab serves dentists and patients located across the United States.
We take great pride in offering high quality dental restorations, experienced technical support, exceptional customer care, and a commitment to quality our practices can rely on. Our customer-first philosophy extends into everything we do.
Give us a try to experience the difference that Trident can offer to your practice.
We excel at processing scans from all major manufacturers, including: iTero, Carestream, 3Shape, 3M, Sirona, and Medit.
Open STL file submissions can be submitted via email or our My Account portal.
A full service lab with the expertise, knowledge, and commitment to help make your practice successful.
World-class customer service is our number one priority. We aim to anticipate rather than respond, creating a seamless experience for you. And if you do need help, our highly trained team of specialists are just an email or call away.
Our people are the best in the industry. Experienced in every type of restorative scenario and experts at integrating digital workflows, we have the capabilities and knowledge to make your next case a success.
Take the variability out of your lab work and schedule. With one of the most robust, efficient, and secure operations in the dental lab industry, you can count on Trident to deliver consistent quality results to your practice.
Ready for a better dental laboratory experience?
The Best Solution, Every Time
Have you ever had to make a partial when an implant was the best solution?

Trident believes the highest quality care should be available to every patient. With Trident as your partner, delivering amazing smiles and the best restorative solution is possible in every situation. Our sophisticated digital workflow and production efficiency allows us to offer premier restorations made with the highest quality materials at a price point that fits every mouth.
Our Partners Are Our Mission
Helping You Bring World-Class Dentistry To Your Patients
Our goal at Trident Dental Laboratories is to consistently fabricate flawless dental restorations and products, combining the latest technology with artistic craftsmanship to provide natural-looking beauty and optimal performance.
In 1988, our dental laboratory was established to help dentists across the country deliver consistently better-performing restorations to their patients. Whether a case requires dental implants, dentures, crowns and bridges, or mouth guards, we help our dentists go above and beyond for their patients by achieving the balance of function and aesthetics.
High-Quality, Custom Restorations
Our dental laboratory is based in Los Angeles, which is known for being a continuously-evolving technology hub in the world. To say that our team is on the forefront of the rapidly unfolding technological advances in the dental industry, would be an understatement!
Since our opening in 1988, we have helped thousands of general dentists, orthodontists, pedodontists, endodontists, periodontists, prosthodontists, and oral surgeons provide better solutions to their patients. When you work with us, we become an extension of your staff and work hard to help improve your practice's offerings.
We offer a wide range of options for simple as well as complex cases. This, combined with more than 30 years of experience in the industry, guarantees your outcome for success regardless of how big – or small – your practice is.
Our skilled team works with CAD/CAM design and can customize any restoration with precise results and digital accuracy. We offer a full line of aesthetic dental laboratory restorations including implants, appliances, and removable prosthetics.
Integrating Latest
Technology With Seamless Dental Laboratory Experience
While the technology we use is cutting-edge, our commitment to customer service is the same as it was more than 30 years ago. We treat each dentist and their practice like they are our very first client. Regardless of the size of your practice, you matter the most to us. To that end, we have created an extremely responsive online portal so you can get in touch with us anytime, anywhere.
As an industry leader in dental technology, our CAD/CAM capabilities allow our technicians to enhance function, fit, and form of each restoration. Our team continues to educate themselves so we can provide the most natural-looking and long-lasting restorations possible. With sophisticated milling machines, computer-aided design software, and digital impression systems, we are constantly improving the basic principles of fit and form so your practice can reap the benefits.
Exceptional Dental Restorations At Your Fingertips
Whether you have a staff of one or 20, we have got you covered. In addition to products and restorations, we also offer strategic guidance as we work with you to grow your practice. Our flexible team is always on stand-by to answer all your questions and help you improve your patients' experience.
From prep guides to RX forms, we provide everything you may need for a successful restoration. As our partner, you will have access to online supply requests, shipping labels, and much more via the members-only online portal.
#1 Dental Laboratory Services & Technology in California
Everything we do is aimed at helping you optimize results, simplify treatment, and improve more lives. If you are looking for custom restorative products made from ADA-approved materials, please call us at 800-221-4831 or contact us via email. We look forward to working with you.