Partner With Us For Premier Digital Dentistry
Trident Dental Laboratories is the go-to dental partner for dental practices across the United States. Our company boasts over 35 years of experience. We provide nothing less than the best customer experiences. Whether you own a small or mid-sized dental practice, our highly-qualified team of laboratory technicians is here to help you enhance your practice with high-quality dental restorations, experienced technical support, exceptional customer care, and an unwavering commitment to quality.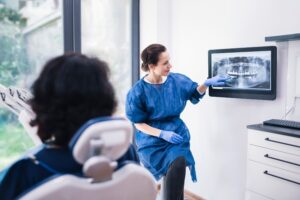 What is Digital Dentistry?
Digital dentistry is a form of dentistry that includes the use of computer-based components, including hardware devices and software solutions. Digital dentistry enables dentists to deliver computer-aided treatment to patients. Digital dental solutions include design software, impression scanners, and more. These solutions reduce the amount of manual work and ensure that dental treatment is more efficient.
The Benefits of Digital Dentistry
Dentist offices that utilize digital dentistry can reap a wide range of benefits. The accuracy and efficiency of this form of dentistry allow dentists to provide their patients with premier dental care and treatment. Utilizing modern dental technology, dentists can now provide patients with faster scanning rates, ensuring less time has to be spent in the dental chair. Additionally, as time goes on and the capabilities of technology expand, the benefits of this form of dentistry will increase in tandem. The benefits of digital dentistry include, but are not limited to, the following:
High-quality dental care
Modern tools and techniques
Best possible patient experience
Reliable and accurate scans
Quick and efficient results
Ability to spot dental issues early
The Various Types of Digital Dentistry
No longer of the future, digital dentistry embraces technology and strives to keep up-to-date with new technologies to ensure dental practices are consistently improved upon. Some of the various types of digital dentistry we offer dental practices are as follows:
Medit I500, I600, & I700
Medit i500, i600, or i700 clinicians embrace evolving technology. We strive to meet the needs of our existing and potential customers with Medit I500, I600, and I700. With this technology, your digital impression file is easily accepted, and using a digital impression system doesn't mean you're confined to only milled restorations like zirconia. Using Medit, you can print from a digital file and fabricate any restoration type desired, from a standard PFM to a pressed and layered E.max crown. Partials, dentures, and night guards can also be fabricated using the printed model made from your scan.
3Shape TRIOS
3Shape TRIOS clinicians can log into their 3Shape Communicate account at us.3shapeCommunicate.com to send files. From there, they can navigate to the Connections tab, where all their Connections are managed, and click the Add Connection button at the bottom left. When prompted to "Fill in the email of the Clinic or Lab you want to connect to," clinicians should type our email address into the field and click the Find button. In the result field, clinicians should see Trident Dental Laboratories. All clinicians need to do from this point is type their desired message into the correct field and click Connect to send files.
Planmeca
Planmeca clinicians can use the Emerald or Emerald S intraoral scanning wand to send Trident Dental Laboratories their files. Clinicians can subscribe to the Romexis® cloud-based system to submit their files to us as well. Clinicians who are not subscribed to Romexis can export their files and submit them to us through their preferred method. Additionally, files can be submitted through the Henry Schein DDX (Digital Dental Exchange) or another file-sending service.
DDX: Digital Dental Exchange
Our DDX-enabled laboratories permit any Dentrix user to submit digital cases to us using DDX. Clinicians can send prescription forms, photos, digital impression files, and more. When using DDX, you can rest assured that your files are submitted instantaneously through a secure electronic connection. With this form of digital dentistry, you can eliminate the errors that come with handwritten prescriptions.
Intraoral Scanners
The intraoral scanner (IOS) is a device that captures direct optical impressions in dentistry. Comparable to other 3D scanners, IOS captures digital impressions by projecting a light source laser or structured light onto objects. These scanners can capture hard and soft tissue imagery, restorations, dental arches, prepared teeth, implants, and more. The captured images are processed by a software that generates point clouds, which are a vast collection of points representing existing structures. The same software is used to produce a 3D model of the scanned range, providing an alternative to traditional impressions.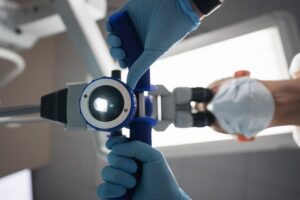 Contact Us Today About Digital Dentistry
If you're a dental clinician interested in learning more about digital dentistry, you've come to the right place. At Trident Dental Laboratories, digital dentistry is one of our specialties. We provide a wide range of digital dentistry services. Contact us today to learn more. We look forward to working with you.