Providing Dental Practices With Partials Since 1988
Trident Dental Laboratories provides partial dentures to dental practices throughout the United States. Whether you need upper partial dentures or partial dentures for front teeth, we've got you covered. Patients often assume it's all or nothing with dentures, but that's not the case. Dentures come in full sets and partial sets and don't always have to replace all of one's upper or lower teeth. Partial dentures are the perfect option for replacing one or more missing teeth. We work closely with the leaders at our dental practices to ensure that their patients receive the best tooth replacement options.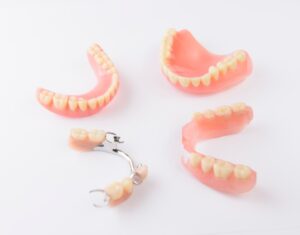 What Are Partial Dentures?
Partial dentures are a removable smile solution for patients with partial tooth loss. Patients with partial tooth loss can use partial dentures to create a seamless fit between their natural teeth. The partial dentures we manufacture are created from durable, high-grade materials and can be customized. This popular smile replacement solution is designed to blend naturally among your remaining teeth. It will seamlessly help restore the functionality and appearance of your smile.
The Benefits of Partial Dentures
Partial dentures can provide your dental patients with a wide range of benefits. If you have several missing teeth, partial dentures might be the perfect option. There are various tooth replacement options, including a dental bridge and dental implants, but partials tend to be the perfect choice. The benefits of partial dentures include, but are not limited to, the following:
Replace missing teeth
Restore the ability to talk
Restore the ability to chew
Maintain jaw structure
Maintain facial appearance
Removable appliances
Restore your smile
Restore your confidence
Non-invasive dental procedure
Work on both sides of the mouth
Low-cost tooth replacement solution
Why Choose Trident Dental Laboratories?
Trident Dental Laboratories is a full-service lab with the expertise, knowledge, and commitment to help make your practice successful. We take great pride in offering high-quality dental restorations, experienced technical support, exceptional customer care, and a commitment to quality our practices can rely on. Our customer-first philosophy extends into everything we do. Count on us for the following:
Service – World-class customer service is our number one priority. We aim to anticipate rather than respond, creating a seamless experience for you. And if you need help, our highly-trained specialists are just an email or call away.
Expertise – Our people are the industry's best. Experienced in every type of restorative scenario and digital workflow, you can rest assured that we have the capabilities and knowledge to make your next case a success.
Reliability – With one of the most robust, efficient, and secure operations in the dental lab industry, you can count on us to deliver consistent quality results to your practice. Take the variability out of your lab work and schedule.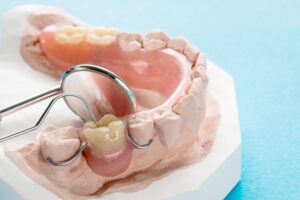 Contact Us Today to Learn More
If you're looking to work with a dental lab regarding denture partials, you've come to the right place. The professionals at Trident Dental Laboratories have been serving the needs of dental practices throughout the United States for years. Whether you need full dentures or partials, we can help. If you own a dental practice in the United States, contact our team of lab technicians today.