Partnering With Dental Practices Since 1988
Trident Dental Laboratories partners with dental offices across the United States to provide patients with the best dental implant services. If your patients need tooth replacement service, a dental implant is the way to go. Since 1988, we have been the go-to dental partner for dental practices across the United States. When you partner with us, you can expect high-quality dental restorations, experienced technical support, exceptional customer care, and an unwavering commitment to quality. We implore you to give us a try and experience firsthand what we can offer your dental practice.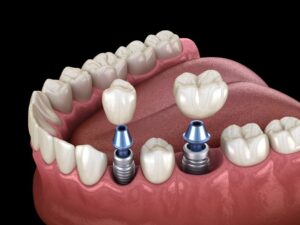 What Are Dental Implants?
Dental implants are small posts, typically made from titanium, that act as the replacement for tooth roots. They provide a strong foundation, or anchor, for fixed and removable replacement teeth.
The Benefits of Dental Implants
A tooth implant can offer patients a wide range of benefits. Additionally, dental implants can provide patients with benefits and advantages that other tooth replacement options, such as dentures or bridges, cannot. The benefits of dental implants include, but are not limited to, the following:
They behave like natural teeth
They can last a lifetime
They keep adjacent teeth stable
They can help keep you free of gum disease
They can prevent facial sagging and premature aging
They can help prevent bone loss
What Does a Dental Implant Procedure Look Like?
Most often, dental implant surgery is performed as an outpatient procedure. There are multiple steps to a dental implant procedure, with designated healing times between each. The dental implant procedure involves multiple steps. These steps are as follows:
The damaged tooth is removed
The jawbone undergoes preparation
The dental implant is placed
Bone growth and healing occur
The abutment is placed
The artificial tooth is placed
What To Expect After the Dental Implant Procedure
After a dental implant procedure, it's common for patients to experience mild discomfort. Some patients may also experience swelling in the gums and face, bruising of the skin and gums, pain at the implant site, or minor bleeding. To remedy this, it's common for dentists to suggest over-the-counter pain medications or even to prescribe antibiotics. If a patient's side effects persist for more than a few days, they should be advised to contact their oral surgeon at their earliest convenience.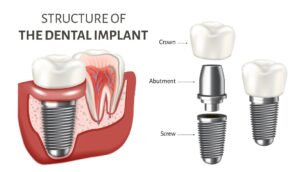 Contact Us Today for Dental Implants
If your dental practice is looking to explore implant dentistry, the team at Trident Dental Laboratories can help. Often an involved venture for patients, implant dentistry requires deep collaboration between the dentist, surgeon, and laboratory technician. Contact us today to learn more about the dental implant procedure, guided implant surgery, and what our team can do for you and your dental practice.