FULL SERVICE
RESTORATIVE SOLUTIONS
Offering a Full Range of Products and Services for More Than 25 Years
Trident continues to be recognized as a pioneer in the dental industry, our products and services, whether basic or complex, encompass commitment to excellence and innovation.

We continue to lead the industry by offering exclusive products and integrating the latest technological advancements, allowing us to meet the needs of today's dental practices and the patients they serve.
Monolithic zirconia designed and precision milled with state-of-the-art CAD/CAM technology.
Virtually fracture-free
Resilient enough for bruxers
Indication: posterior use, bridges (any span)
Strength: 850+ MPa
Cost: $
Exclusive Trident offering, is the perfect combination of strength, beauty, and fit. A zirconia internal provides durability and reliability, while an external layer of porcelain creates a natural look.
Combination of beauty and strength
Improved translucency over monolithic
Indication: anterior and posterior crowns
Stength: 1200+ MPa
Cost: $$
The original monolithic zirconia, tested and proven in the mouth for more than 20 years.
Indication: posterior use, bridges (any span)
Strength: 1200+ MPA
Cost: $$
The next evolution of BruxZir. A monolithic zirconia restoration with greatly improved translucency.
Indication: anterior and posterior use, bridges (any span)
Strength: 800+ MPA
Cost: $$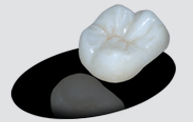 A reformulated glass-ceramic consisting of lithium discilicate, e.max delivers outstanding aesthetics, reliable strength, and versatility within the mouth.
Indication: anterior and posterior use, anterior bridges (3 units or less)
Strength: 400 MPa
Cost: $$
Very similar to the press version, but designed via computer software, and milled from e.max blocks. CAD sacrifices a small amount of strength for the accuracy of digital design and processing.
Indication: anterior and posterior use, veneers, inlays/onlays
Strength: 360 MPa
Cost: $$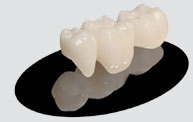 Composed of conventional silver-colored alloys, PFMs are the traditional choice for simple to advanced combination cases.
Indication: posterior and anterior use, bridges
Strength: 200-350 MPa
Cost: $-$$$
Available in three varieties:

Non-precious (NP)
Semi-precious (SP)
High noble (Golden Cast)
Known for its long-term wear resistance, functionality, and superb biocompatibility, full cast or full gold crowns offer a consistent and predictable restorative option.
Indication: posterior and anterior use, bridges, inlays/onlays
Cost: $-$$$
Available in three varieties:

Non-precious (NP)
Semi-precious (SP)
High noble (Golden Cast)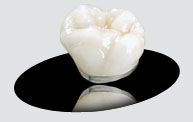 An all-inclusive bundle with a custom TI abutment, makes delivering implant solutions to your patients both easy and affordable.
Bundle includes:
FCZ Crown
TI Custom Abutment
Analog
Screw
Soft-tissue Model
Labor
For a list of supported platforms, please call or email.
We design and mill our own in-house abutments. We also work with all major implant manufacturers to offer OEM implant-abutment cases.
Need a specific solution? Just specify on your RX. Prices subject to variability by case-type and manufacturer. Please call for more details.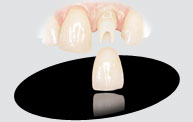 Composites and Provisional
As a result of art and science coming together in Biomimtic Nanotechnology, one of the most respected indirect restoratives of its kind has been created. Premise Indirect (belleGlass) replicates natural enamel and wear characteristics of dentition and exhibits exceptional high gloss. Utilizing the Trimodal Polymerization (light, heat, and pressure curing) its physical performance is outstanding with 98% material conversion when compared to that of light curing only.
Trident's custom-made, fiber-reinforced temporary prosthetics deliver a beautiful life-like, strong, natural-fitting provisional. They are competitively priced and offer a fast turnaround time to meet your patients' needs.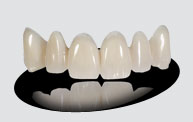 All the beauty, aesthetics, and characterization of our traditional Full Dentures, are delivered with our Immediate options as well. Take the uncertainty out of Immediates.  Our experience and attention to detail will help make your next Immediate Denture case a success.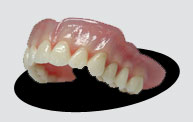 Tri-Flex is a light-weight, translucent, particularly comfortable flexible partial. Its unique physical properties allow natural tissue color to appear through the material resulting in high aesthetics. For patients with allergies to acrylic, Tri-Flex is monomer free
Fabricated with a biocompatible thermoplastic nylon material, Valplast is ideal for patients who prefer not to have fixed restorations or are transitioning to final treatment. Valplast naturally blends with their tissue, is lightweight, comfortable, and eliminates the need for metal clasps.
Lasermet is composed of a chrome/cobalt alloy. Utilizing a new proprietary laser design and finishing technique, it provides a precision fit and refined surface for improved patient acceptance with minimal chair side adjustments.
Vitallium 2000 is a reformulated premium alloy which provides exceptional strength and fracture resistance. Biocompatible and Nickel and Beryllium Free.
Also available as a Flexible combo partial.
In need a transition option or an economy solution to partial edentulism? Trident has the experience and knowledge to craft a well-fitting and aesthetic acrylic partial
Pricing based on span of the partial:
Flipper (1 tooth)
Stayplate (2-5 teeth)
Treatment Partial (6 or more teeth)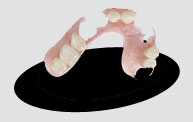 Designed for parafunctional control and general protection, BiteSoft has helped thousands of patients reduce pain. And since BiteSoft has a soft inner liner, compliance is never an issue.
Features:
Anterior Discluding Ramp
Centric Occlusion Table
Lingual Ramp
Dual Laminate Or Thermolined
Indications and Benefits
Indicated for maxillary arch only
Available in dual laminate or a thermoplastic lining
Protects porcelain restorations
Prevents tooth damage
May relieve jaw and neck pain
Provides 70% reduction of the intensity of clenching
Available as:
Anterior Splint, eliminates posterior clenching
A Full Arch Splint, stabilizes occlusion for TMD patients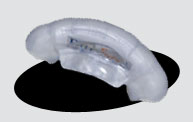 Combination guard with a hard outer surface plus a comfortable soft inner liner. Includes a built up anterior ramp for lateral guidance and stable occlusion.
Indicated for upper or lower arch.
Thermoplastic guards made for protection for restorations or from bruxism.
Indicated for upper or lower arch.
Available as: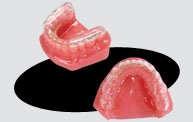 Outfit the whole team with these classic custom sports guards. Affordable, comfortable, and customizable.
Ideal for protection during impact sports
Variety of colors offered
A helmet strap is optional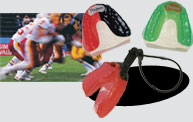 Tri-Clean™ is specially formulated for cleaning any removable dental appliance such as; InStyle Smile, Tri-Flex, Valplast, cast partials, dentures, night guards, and sports mouth guards, bite splints, anti-snoring and orthodontic appliances. In just 15 minutes, its fast and effective sodium-based effervescent formula will dissolve tartar and tough stains in hard to reach places. Tri-Clean is specifically formulated to clean all thermal plastic appliances in cool water, preventing damage or distortion from happening to the appliance.
Tri-Clean™ Cold Water Appliance Cleaner
(12 oz. Bottle)
Looking for something not shown here or on our fee schedule?
We want to be your partner on every case.
Call us at 800-221-4831 to inquire about any specific product you do not see listed.
Click Below for Warranty Info