Providing Premier Dental Appliances for Over 25 Years
Trident Dental Laboratories provides premier dental appliances to dental practices throughout the United States. For over 25 years, our expert team has offered a full range of products and services. As a pioneer in the dental industry, we are committed to excellence and innovation with every service we offer and product we put out. We offer exclusive products and integrate the latest technological advancements, allowing us to meet the needs of today's dental practices and the patients they serve.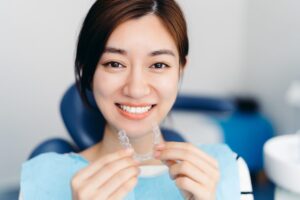 The Types of Dental Appliances We Offer
Whether your practice needs dental appliances for sleep apnea or a different dental appliance, we've got you covered. We can provide you with a sleep apnea mouth guard, snoring mouthpiece, mandibular advancement device, and more.
Mouth Guards – A mouth guard is a dental device that covers and protects the teeth, tongue, gums, and cheeks from sports injuries and teeth grinding. Because there is no one-size-fits-all for mouth guards, these dental devices must be customized to fit the individual patient. This is proven to produce better results than over-the-counter mouth guards.
Night Guards – Night guards, or night teeth, are mouth guards specifically for nighttime wear. Night guards are designed to help reduce snoring and relieve obstructive sleep apnea. Those diagnosed with bruxism and suffering from chronic headaches or jaw pain could likely benefit from wearing a night guard. These dental guards can protect your teeth from the wear and tear that can occur with bruxism and relieve temporomandibular joint (TMJ) pain.
Why Choose Trident for Dental Appliances?
In all that we do, we strive to make things easier for dentists and their practices. It's the dentist's job to ensure their patients smile confidently, but it's our job to ensure the dentists receive their products on time. We do more than create dental restorations. We help make it easier for dentists nationwide to achieve their goals and run their practices seamlessly. We believe our relentless focus on quality and excellence is the key to our continued success and customer satisfaction. Regardless of how big or small your dental practice is, we will provide you with the best products, appliances, and restorations whenever you need them, helping you achieve the best possible results. When you partner with Trident Dental Appliances, you can expect the following:
High-quality dental products consistently
Fast and reliable turnaround time for every order
Unbeatable prices
Dependable customer service and technical support teams
Easy-to-use online portal to place and track your order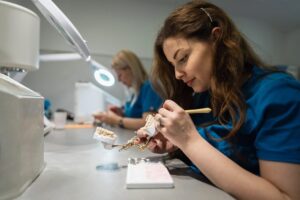 Contact Trident Dental Laboratories Today
The expert team at Trident Dental Laboratories is ready to be your partner in every case. If you're looking for a dental appliance that it's shown or mentioned on this page, give us a call to inquire about its availability. If you have any questions about our product offerings, please get in touch with us at your earliest convenience. We look forward to assisting you and your practice. Contact us today.