Assisting Dental Practices With Crowns & Bridges Since 1988
Since 1988, Trident Dental Laboratories has been the go-to dental partner for dental practices across the United States. With over 35 years in business, you can trust us to provide you with nothing less than the best. We take pride in providing our practices with high-quality dental restorations, experienced technical support, exceptional customer care, and an unwavering commitment to quality. In all that we do, we put our customers first. If you own a small or mid-sized dental practice, you might benefit from parenting with Trident Dental Laboratories regarding dental crowns, dental bridges, dental implants, and more. Give us a try to experience what we can offer your dental practice.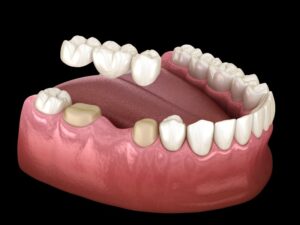 What Are Dental Crowns & Bridges?
If you've ever wondered, what is a dental crown or what is a dental bridge, you don't have to wonder any longer. A dental crown is a cap placed on top of a damaged tooth. It can protect, cover, and restore the shape of a tooth after an unsuccessful filling. Dental crowns can be made from metals, porcelain, resin, or ceramics. Often, dental crowns will only require good oral hygiene. Dental crowns can restore the shape, size, strength, and appearance of one's teeth. A dental bridge is typically made from dental crowns that are placed on either side of a missing tooth. The dental bridge bridges the gap where the missing tooth is located and can seamlessly help restore the look and function of one's teeth if they are missing.
The Benefits of Dental Crowns & Bridges
Dental crowns and bridges can offer patients various benefits. Not only can a dental crown or dental bridge treatment reduce the pain and sensitivity caused by a cracked tooth, but it can prevent a crack from progressing and damaging the nerve of the tooth, improve the aesthetics of damaged teeth or those with silver fillings, and improve one's bite to prevent or ease pain from temporomandibular joint (TMJ) disorder. The benefits of dental crowns and bridges include, but are not limited to, the following:
An enhanced smile
An aesthetic advantage
Functional restoration
Tooth structure restoration
Tooth structure protection
Salvaging teeth
Anchoring restorations
Even force distribution
Correcting visual bite alignment
Correcting small gaps between teeth
Correcting misshapen teeth
Correcting discolored teeth
The Types of Dental Bridges
When it comes to dental bridges, there are multiple types available. The four main types of dental bridges are traditional fixed bridges, cantilever bridges, Maryland bridges, and implant-supported bridges. Below, we've gone into detail about each of these types of dental bridges:
Traditional Fixed Bridge – This is the most common type of dental bridge. It is comprised of two or more crowns and a filler tooth or teeth. The crowns keep the bridge in place. These traditional dental bridges can be made of metal, ceramics, or porcelain fused to metal.
Cantilever Bridge – This dental bridge connects the pontic to only one abutment tooth. Sometimes, this dental bridge is an option for those with teeth on just one side of the gap.
Maryland Dental Bridge – This bridge is ideal for missing front teeth. It's crafted from porcelain-fused to either metal or ceramic teeth and is supported by a framework. It also has wings on either side of the bridge bond that connects to your existing teeth.
Implant-Supported Bridge – This dental bridge is similar to the traditional fixed bridge save that it is cemented to the teeth and held in place by implants.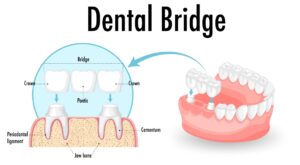 Contact Us Today for Dental Crowns & Bridges
At Trident Dental Laboratories, we understand that the core of any successful treatment is an in-depth collaboration between dentists, surgeons, and laboratory technicians. As dental crown and dental bridge treatments are often involved ventures for patients, this is a crucial factor to keep in mind. We work hand-in-hand with dental offices across the United States. Contact us today to learn more.