We Provide Dentures & Partials to Dental Practices
Trident Dental Laboratories provides dental practices throughout the United States with premier dentures and partials. We provide our clients with affordable dentures and implants, partial dentures, permanent dentures, and more. Our lab technicians are committed to assisting dental practices nationwide in improving patient oral health and happiness.
What Are Dentures?
Dentures are dental devices used to replace missing teeth. Known as false teeth, dentures consist of prosthetic teeth, which are held in place by the gums. These teeth are often made from resin or acrylic.
What Are Partials?
Denture partials are a plate of one or more false teeth. Partials have clips or clasps to help keep the dentures in place within the mouth. Some of these clips may show when you smile or open your mouth.
Different Types of Dentures for Your Dental Practice
At Trident Dental Lab, dental practices throughout the United States can find state-of-the-art dentures and a wide range of them. We can create everything from fixed dentures to immediate dentures, so your dental practice can count on our team. The different types of dentures we can offer your dental practice include, but are not limited to, the following:
Immediate Dentures – These temporary dentures can give patients a natural-looking smile while their gums are being remolded following a tooth removal procedure. This type of denture is the perfect placeholder while the gums heal.
Partial Dentures – These dentures are designed to replace one or multiple teeth. They provide patients with durability, comfort, strength, and aesthetics.
Full Dentures – These dentures are for patients missing all their teeth. There are multiple options for these, including traditional, digital, or implant-supported.
Fixed Dentures – This type of denture comprises two to six dental implants placed in the mouth's arches. The denture device is then attached to these implants. Additionally, fixed dentures are the most stable denture option available.
Overdentures – These dentures appear like a regular set of dentures, but they are attached to dental implants so they can 'click' into place.
The Benefits of Dentures
Whatever kind of dentures you opt for, there are numerous benefits you can reap from wearing them. Not only are dentures designed to be comfortable, but they are designed to perform the functions of one's natural teeth. Having dentures can help renew one's confidence in both chewing and talking. Dentures can help restore a patient's smile, eliminating any social awkwardness they may feel because of their missing teeth. This tooth replacement option is also removable, allowing them to be properly and easily cleaned. Additional benefits of dentures include, but are not limited to:
No more restrictions on what you can and can't eat
No more sagging facial muscles, making you look older
Decreased rate of bone disintegration
Chewing forces are evenly distributed to all teeth
A cost-effective tooth replacement treatment option
Help maintain the way you pronounce words
Help maintain a natural-looking, beautiful smile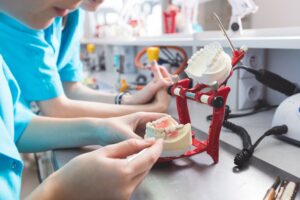 Contact Us Today for Dentures & Partials
We offer an array of false teeth, such as dental implants, upper partial dentures, and affordable dentures. We offer full dentures and partials and a wide range of additional tooth replacement options. Our state-of-the-art lab can create whatever your dental patients need. The professionals at Trident Dental Laboratories have been serving the needs of dental practices throughout the United States for years. Whether you need full dentures or partials, we can help. If you own a dental practice in the United States, contact our team of lab technicians today.